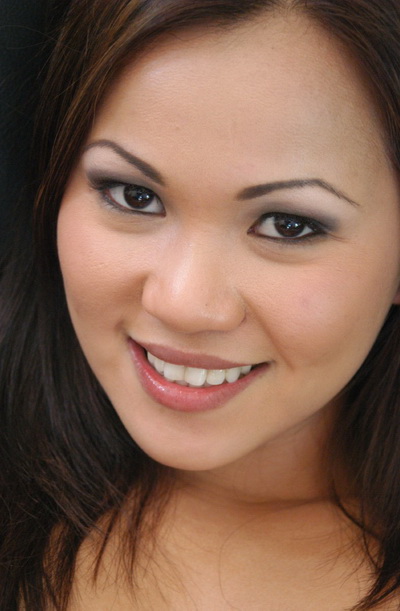 Hi, my name is Sabrine Maui, and the Maui comes from the fact that I love Hawaii, and used to live on the island of Maui. Its almost a year now that I wanted to shoot for this site, but things always came up and we weren't able to set something up. The shoots for this website aren't a quick in and out thing, usually you have to stay for a weekend or more. I see why though, we travel around a lot, and the site does not have the repetitive feel of most websites where they shoot at the same place every time. I would think that would get boring for you guys. So here we are, in some pretty exotic place, with people working downstairs and me stripping down upstairs!
I feel sexy here, and my black dress fits that mood. I noticed the site likes the strappy type of shoes and I have lots of them. I'm petite, even for an Asian (I am half Chinese, half Philippine) but I think my breasts are nice, they are round and dont sag like even some small breasted girls. And guys just love my ass. You probably are thinking, does she like anal sex? Well I've tried it a couple of times, but I'm still not used to it. We spent enough time here, time to move on before someone calls trouble.
The car needs gas, and I'm the one who has to fill it up, so lets make it interesting on camera with breasts out and my nipples showing. There are some people gassing up next to us, but I don't think anyone noticed. We ate at a breakfast lunch place and when the videographer asked me to show my nipple, I went all out and flashed my breasts and squeezed them with people on other tables next to us. Then I took off my panties and that really gave the videographer a heart attack. He was worried someone will notice. If they did, who cares? At worst they would have asked us to leave.
What I love best, to masturbate. I sometimes like masturbating more than sex, or maybe thats because I really know how to pleasure myself. And I have no problem having orgasms on or off camera. No need to act it thats for sure. I think like many girls, I like to start with some caressing of my body, then move on to a soft rub of my clitoris, followed by some fingering. Each one has its own way of stimulating me, and I like both. I think for men there is only one pleasure, and you guys miss out on how many ways we can pleasure ourselves.
Here is some good closeups of my fingers running through the folds of my pussy, then my fingers sliding deep in there where it feels good. My panties are getting in the way at this point, and they come off for good. Now my breasts and pussy are all exposed, ready for sex.
Vibrators usually bring me to orgasm in just a couple of minutes if I want, and this one is just the right size for me. I got it wet with my mouth, then pushed it inside. Then I fuck it hard while rubbing my clitoris. My pussy loves it like this, and with my other hand I'm either rubbing myself or caressing my form. I'll taste myself inbetween positions to get a feel of how wet I am and how my juices are starting to flow. Do you like it doggy style? I love being fucked that way, as long as the guy isn't too big (then it hurts). In this video you can see how my pussy surrounds the vibrator and holds it tight. Asian girls are tight and their pussies feel better when you're in them right?
I turned over and moved into my favorite position, raised the power level of the vibrator and started really putting pressure on my clitoris. That's when I started moving past that point of no return, that point of pleasure that keeps getting better and better until I have an amazing orgasm I can only achieve with a vibrator. The videographer caught my juices building up and flowing down my pulsating butt. I told you I love masturbating and the incredible orgasm that comes with it! The sticky juices were all over my fingers and they taste gooood. Come and taste me.
On the FTV paysite she has 422 professional photos & 523mb of video:
-Public Nudity/Speculum Scene
-Masturbation w/toy & wet orgasm
-Panty Stuffing/Shoe Heel Sex
-Big Ten toy/FTV Toy to Orgasm
-Sex with 3 Makeup Tools
Download her full high quality videos
Rate this girl